New Beginnings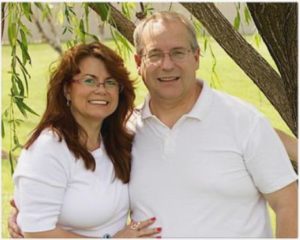 I find my heart racing as I ponder on God's promises.  This is the time of year when the excitement of the holidays is over and many people feel depressed. However, I am overwhelmed as I think about God fulfilling His words. I believe we are entering into a whole new spiritual atmosphere. The Holy Spirit is moving and we are about to experience some of the greatest days in history. The devil would like us all to be afraid and give up, but we are the people of God. I, for one, choose to go on because God is for me! If he is for me then I have nothing to fear. Some have asked if I will cut my travel short because of terrorism or the threats of war. My answer is NO! I will travel even more.
…….Debby
Thank You!
Every year at this time we send out receipts to our supporters, telling them how much we appreciate them.  Fred and I are so grateful for your faithfulness and love towards us and the people we minister to. I would also like to thank all of those who pray for us. This past year several people told me about the days they spend thinking about and praying for us. Several told me that they specifically set aside time just to pray for me while I travel. My heart is overwhelmed by this. There are no words to adequately express our gratitude. Thank you all for your prayers and finances.
Philippians 1:3-7
I thank my God every time I remember you. 4 I always pray with joy in my every prayer for all of you 5 because of your participation in the gospel from the first day until now. 6 For I am sure of this very thing, that the one who began a good work in you will perfect it until the day of Christ Jesus. NET
Debby's Upcoming Trips
This week I will be flying to Africa. I am going to be teaching on Covenant Principles. I touched on this topic when I was in Africa in the fall and many students asked me to come back to specifically teach this subject. I will fly to Mali on January 26. By the time I make all of my flight connections, it will take me about 2 days to get there. I will be speaking in some of the local churches and teaching in the Bible school. On February 5, I will fly from Mali to Togo and then to Benin. I will be teaching in 2 Bible schools in Benin and speaking in some of the local churches there as well.
I'll be home for three weeks and then on March 27, I will be flying to Manila. From there I will travel by bus to Baguio. For 10 days I will travel to outreach church plants in Mountain Province. I will be speaking at these churches on revival and the power of God's word. Then I will return to Baguio to minister to the local church. The next week I will fly to Palawan to minister to local churches and the pastoral families on that island. Then I will fly to Manila and then home. Fred and I are still working on our plans for the trip to Africa in May. It looks like that will be a very exciting trip as well.
Books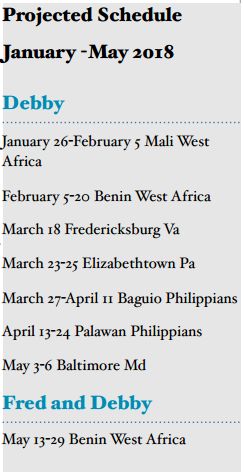 Debby has 4 new books coming out in the next two months.
•Poems To Live By vol 2 Any 'ol Bush
•Because God Said So
•Storm Walker
•Creatures of the Forest
Support
Please ask the Lord to direct you in how you can help us. I am looking for 1000 people who will Covenant to pray with us.
I am also looking for 500 people who would support this ministry financially. Just $10 a month would be a blessing.
Prayer Requests

1. Pray for us as we make our plans for this year, that we will go
where we can have the greatest impact and blessing.
2. Pray for our health that we can withstand the vigorous travel
that we do.
3. Pray that our monthly support increases.