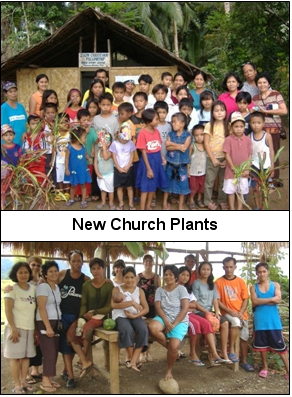 Debby's Philippine Report
In-between the 4 seminars, we visited many churches. One of them was a new church plant just for children and another a tribal church deep in the rice paddies. It was wonderful to encourage these pastors and young churches. They fed us wonderful local food and we shared with them the Bread of Life. After every service we had long periods of alter ministry and many were touched by the Holy Spirit.
Minda, Pastor Jun's wife, has been sick and unable to travel with us every time I have traveled to the island of Palawan. This year when I arrived Minda said that she had a spot on her lung and high blood pressure and would not be able to travel us. I told her that the doctor would find nothing wrong with her. Praise the Lord, when she went for her check-up, the doctor could not find anything wrong. God had done a miracle and she was able to travel with us the whole time!
We traveled from the East to the West of the Island each day speaking at Churches, sleeping on the floor and eating rice and fresh fish. At the end of the trip we went North coming upon a stretch of road that was covered, for about a half a mile, with mud 2 feet deep! This was a newly dug road with no pavement. There had been a week of rain from a typhoon and the mud was impossible to cross. Pastor Jun called a friend with a big front loader, who pulled our car through the mud.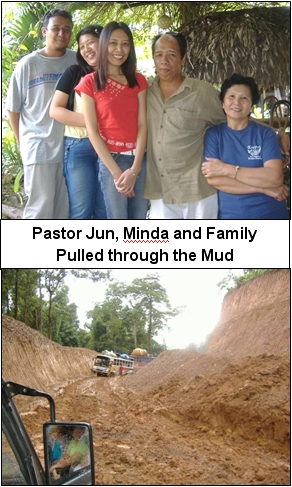 This was on the way to our last seminar. That seminar was very significant because it involved reconciliation between some people who had been estranged for more than 10 years. Afterward I thought about how hard it was to cross our muddy road and the reunion of those old friends. Obviously the obstacles were as hard for us as they were for them but God had another idea. We made it across the impossible road and friends crossed years of separation. It was a fantastic time.
Of course we had to travel the muddy road again to return to Puerto Princesa. This time there had been 4 more days of rain. You can imagine how much mud there was this time! It is in these times that we really appreciate your prayers.
Please pray for Debby as she plans her next trip to the Philippines with another team on November 27th.
Fred Returns to Africa
Fred will be flying back to West Africa, along with Bill Hoffman, the 11h of October. They will arrive on the morning of the 12th in Accra, Ghana and go by road to Lome, Togo. Saturday they will go on to Cotonou, Benin to teach Bible School the 13-20th. The 21st they fly to Bamako, Mali for a Bible School the 22-28. Then fly back to Cotonou on the 29th and the 30th cross back over to Lome, Togo for live teaching at a new Video Bible School in the morning and church crusade in the evening. Sunday November 4th, after church, they will cross over to Accra, Ghana. Then November 5th Bill flies back to the USA and Pastor Geoff Bretches and team from New Hampshire arrive in Accra. They will have 2 weeks of Bible School in the mornings and church meetings in the evenings.
Please pray for the Schools, Students and their ministries. Pray for good health and safe travels for Fred and team.
Please continue to pray for the necessary finances. We still have some an unpaid bill from the first half of the year we need to pay off.
Serving Christ Together with You, Fred and Debby