October 2007 – Women from Maryland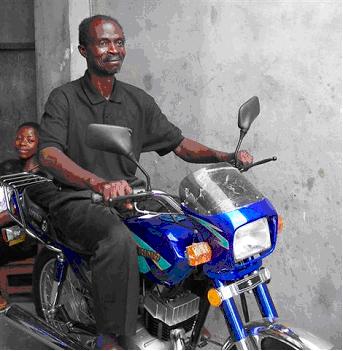 Celestin Aballo – a pastor of 2 village churches and planting another church now in Mono (Southwest) region of Benin. This is with the Kotafon people – they are an unreached people group. The 2 churches are 25 Km NE from his house and 18 km NW in the other direction for the new church he is planting. He is one of the older pastors being in his mid 50's. He had never had a motorcycle not even a bicycle. Before this he walked to the churches. He was so very happy. This was a great blessing!
May 2007 – Pastor and wife from New York and from the ministry of Fred & Debby Davis.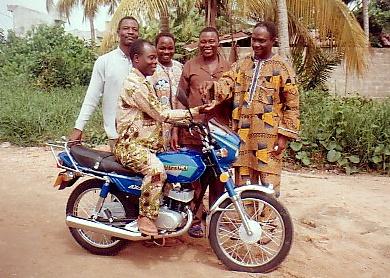 Here is a picture of Pastor Leonard Hedegla and the new Suzuki motorcycle he received. He is a graduate of our Bible School in 2004. He lives in Adjatokpa, a village in Southeast Benin, and pastors the Kpinnou church about 40km from his house. His church cannot afford supporting him and his family, that is why he is lives in his village, where he can have free lodging in the extended family house, and do some fishing (even though educated) to have some means to add to the support the national church is giving him.He is very happy to have this new motorcycle as transportation means. When, the leaders handed the new motorcycle key to Pastor Leonard, he was so happy and said, this is a precious resource and weapon given to him as a soldier for further conquests. Praise God!The Benin workers are keeping all the precious donators in their prayers.
March 2007 – Family from Ohio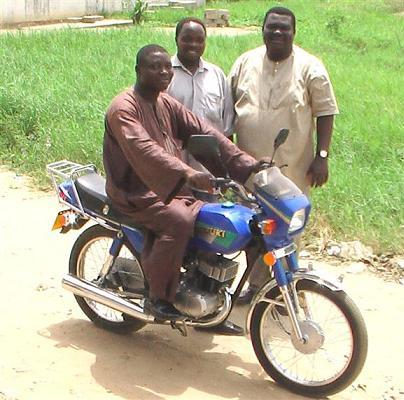 Here is a picture of Pastor John Chabi and his new Suzuki motorcycle. He is a pastor in the town of Manigri in the mostly Muslim Northwest of Benin. They recently had to leave the building they rented for meetings and find another because of persecution. He planted this church about 2 1/2 years ago. He also has a church plant in the village of Bassila where he lives. He also has a plant in the village of Ibéré. His wife was diagnosed with cancer last fall, but it ended up it was a non-malignant growth they cut out. She has another now. This motorcycle is a great blessing for him to be able to get around from church to church. He was really, really happy to receive it. And a second blessing is the parts are shipped in by Suzuki from Japan and China and then assembled in Benin – so it supplies some employment in the country too. Please pray to be able to buy their own property for the churches, so that they will not be sent away again.
January 2006 – Donated by a Retired pastor and wife from Canada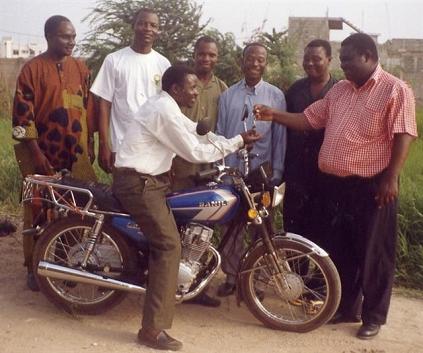 Here is Pastor Benoit, he is a pastor in the town of Sehoue and oversees 5 village churches in the center of Benin – in Voodoo area. We need to send more trained church planters with support into this area that where the hearts of many people are open at this time – though the witch-doctors are persecuting churches.
September 2005 – Donated by a Retired pastor and wife from Canada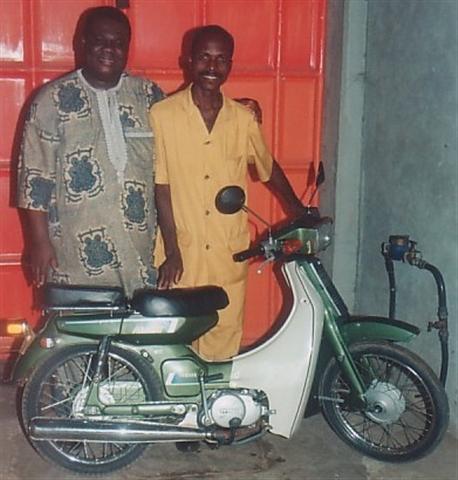 Pastor Felix in the town of Soyo and pastors 3 village churches – Se, Dame and Janeganglanme. This area in the south-central of Benin is open also needs church planters
More motos needed – Can you help?
Pastor Felix (different one) needs a new motorcycle desperately because his is very old. He is the overseer of the couffo region and cares for 5 churches and the farthest church 38 kilometers away. He is training workers to care for some of the churches and plant more.Also 39 other pastors need motorcycles for this work in the country of Benin.