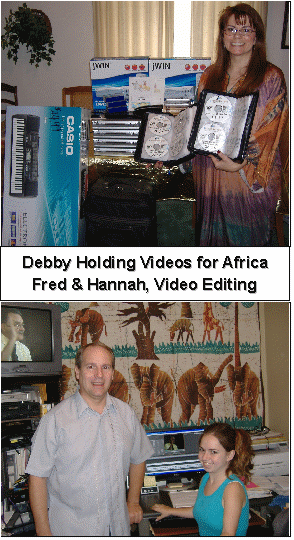 Dear Friends,
We are so thankful for you. Thank you for your care and partnership in the Gospel of our Lord Jesus Christ. We pray that God will bless you abundantly.
Need To Multiply Workers
The Lord spoke to Fred early this year and impressed on him the critical need to Multiply Workers.
• Millions Have Never Heard! It is estimated that in the 10/40 window there are about 1.6 billion people that have never heard the Gospel of Jesus – not even once!
• Lack of Workers! Jesus taught us in Luke 10:2 that the harvest is plentiful, but the laborers are few – and this is even more true on the mission field.
• Lack of Training! It is reported that less than 10% of the estimated 2 million church leaders in the developing nations have had any formal ministry training! The workers need training before they can go.
• Language Barrier! In the unreached villages of Africa, where we work, most people don't speak English or French and are illiterate. They need to hear the good news, but can only understand it in their own language. The best way to reach them is by their own people from their own language and culture. We need to train willing workers in their own language.
• Final Frontier! Getting the gospel to those who have never heard it, is what we call the "final frontier."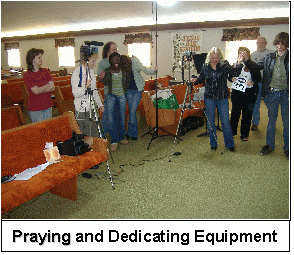 Video Bible Schools are a way to help train village workers. That is why we started are own Video Bible School a few years ago. We feel that we need to work harder on this area of our ministry.
Video Equipment
We have purchased some cameras and equipment to record Bible teachings for our Video Bible Schools. Some committed workers from Debby's dad's church are helping us. Maybe you have heard of the 10/90 rule – for 10% of the price you can get 90% of the results. But we are trying to achieve 95% for 5%, or perhaps even 1% for 99%. We have purchased used cameras on e-bay, for example. Please continue to pray with us for this great work of preparing Video Bible classes to train willing workers who will reach the unreached people of the world.
Video Bible Schools in Africa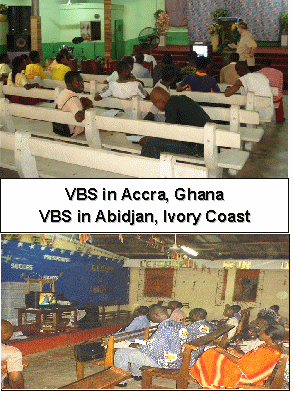 While in Africa, Fred was identifying the major tribal languages in the countries we ministered in. He worked on the process of how to record those languages. Below are some short examples of the languages. He was also visiting Video Bible Schools to see their progress and setting up new Video Bible Schools..
Thank you for your Prayers and Financial Support.