Dear Friends,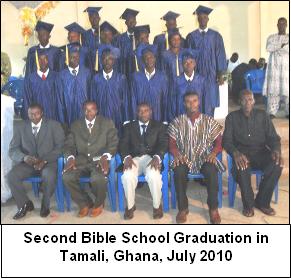 The harvest is plentiful!  We are so privileged to be working in an abundant field.  There are so many openings and opportunities and the work is multiplying.  Thank you so much for your love, prayers and support.  We need you.  THANK YOU, THANK YOU, THANK YOU!
The Workers are Multiplying
We have had graduations in Tamale, Ghana, in Lome, Togo and Cotonou, Benin.  That means that there are more workers in the harvest field of our Lord.  Please pray that each of these graduates fulfills their eternal destiny.
Please pray for us as we travel and teach God's word – we want to be a blessing wherever we go.
Fred's Fall Africa Report
On September10th , Fred, along with Pastor Charley Elwell (Debby's dad and our pastor) and Bill Chapel, flew to Africa on Friday,.  They were in Togo, Benin and Mali.  They taught at Bible Schools in all 3 of those countries.  They had Bible School graduations in Benin and Togo and a Leadership Seminar in Benin.  They also preached at a number of churches, some were village churches.
Benin
They started their trip in Benin.  They had a week of Bible School.  They had church services – one far out in a village.  Then they had a Leader's Seminar and a large graduation.
Togo
They arrived on Saturday, straight from the graduation in Benin, but not in time for the service they planned to attend.  Sunday afternoon was the graduation.  Four Video Bible Schools in Lome came together as well as students from the school in Vogon came to graduate.  The following week they had Bible School in Lome.
Mali
From Togo they flew to Bamako, Mali.  There they had Bible School for a week and nightly church services.
Debby Taking a Team to Philippines
Please pray for Debby.  Once again she is taking a team of 5 to the island of Palawan in the Philippines.  Debby, Marie Louise, Chris Wolcott and Michelle Harter will leave Olean at 2am on November 9th for the Buffalo Airport.  From there they will fly to Atlanta, meet up with team member Laura Grottanelli.  Then they will all fly to Seoul, South Korea before flying on to Manila and the next day, fly on to Palawan.  Once there, they will take a 12 hour ferry ride to Cuyo Island.  There they will have 3 days of Pastor's meetings and also local church meetings.  They will then take the ferry back to Puerto Princesa, Palawan.  From there they will travel the island speaking in many of the villages, encouraging the local pastors and their families.  They also plan to teach in Bible schools.  This year, for the first time, Marie-Louise will be going.  We are very excited about this trip and believe they will see God do the miraculous and bless these wonderful people. Please pray.
Please Continue to Pray With Us
The ministry requests and needs are great.  Thanks for praying for us to be able pay off the ministry debt.  In the last month we have been able to pay off some.  Please pray and believe with us to be debt free by the end of the year.
THANK YOU AND GOD BLESS YOU!