Dear Friends,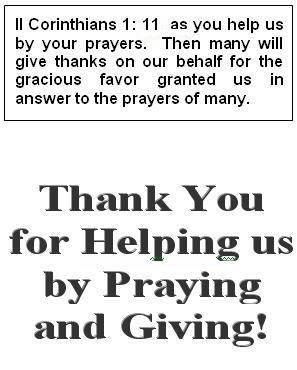 Praise the Lord! We are going forth in faith!
We believe the Heart of God is for all people everywhere to hear of His love. This is our mission – training workers to take the Gospel of Jesus to the ends of the earth. Thank you for your support as you help us to do this very thing.
Help!
Friends have said to us, "If you ever need anything, just let us know." Well, we are writing to let you know that we need help! We need money for this ministry trip and to pay off the ministry debt. We need your prayers. We believe that God will supply as we do His will to reach the unreached.
We have purchased the plane ticket for Fred to go back to Africa. Our nephew, Charlie Harrison, is going with Fred. We are keeping our commitment to 4 Bible Schools – in Bamako, Mali, and in Ouagadougou, Burkina Faso, and two in Cotonou, Benin.
We are so grateful for you, our partners. We are praying that God will bless you abundantly throughout 2012!