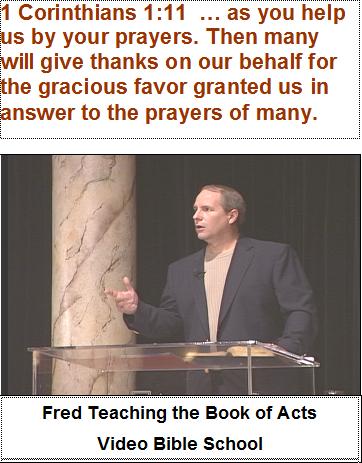 We are so privileged to be your missionaries.  You, our supporters, are the best.  THANK YOU so much!!!
Special Prayer Request
We are writing this letter to you to ask if you would agree with us in prayer.  We need your prayers for all we do every day, but this special request is that you would pray for us and with us for a financial miracle.  As you know, this is a time of economic difficulties, but God is able!
We are asking if you would agree with us in prayer for $9,000 extra this month, so that we can pay off our ministry debt.  You know we don't normally write like this – however, many have said that they want to know our needs so that they can pray with us about them.  We want to enlist your specific prayers for this specific need.
 
Continued Ministry
When we are in the States, we are still involved with our Worldwide ministry.  We speak at churches and conferences.  Fred is constantly working on the Video Bible School – preparing, editing and recording new classes.  The Video teaching of the book of Acts will be finished in the next few weeks.  This is the English and French version.  Next we will add other languages to it.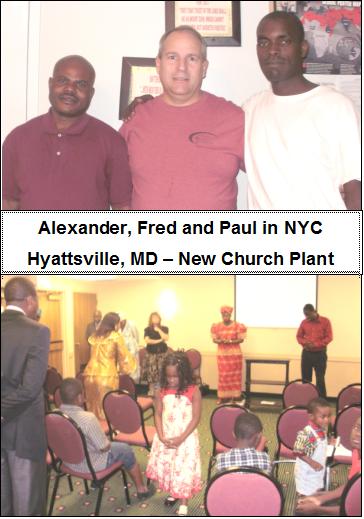 Paul & Alexander
We went to New York City in June and caught up with two of our graduates from the Bible School in Abidjan, Ivory Coast.  Paul has a church there and still has the one in Abidjan as well.  Alexander has his church in Abidjan and is visiting the USA for 3 months.  We went to New York City to visit them and get Pastor Marc at the JFK airport.
Marc from Mali
Pastor Marc and Bintou Coulibaly from Bamako, Mali, came to the USA for a month.  They came to visit their daughter Dorcas, who is going to school in Olean.  We took them to a number of churches and Fred interpreted Marc's French to English, four times!  We also took them to a new church plant in Hyattsville, MD, to preach for it's inauguration.
North of Ghana
Aldous, David and Francis are 3 graduates from the Bible School in Accra, Ghana.  They have gone to the Muslim, unevangelized, North.  We send them money every month so that they can work there.  We need to send $1,000 for Aldous to get a motorcycle so he can get around better and get out to the villages where they are planting churches.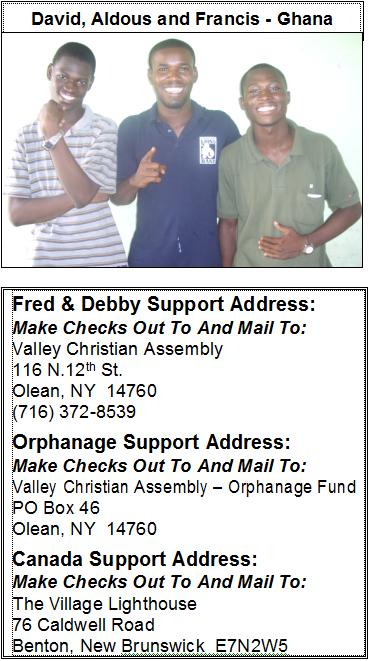 Quebec
For years we have been praying for Quebec Canada.  Thursday, July 15, we will be taking a team with us to bless and encourage the ministry of our friend, Peter Shannon.  He recently planted a church in his town, Saint Julienne, Quebec.  Please pray that we are a blessing, an encouragement, that the church grows, and that souls are saved.
Fred and Debby
Fred flies to Africa September 8th.  Pastor Charley Elwell, Debby's dad and our pastor, are going with him.  This will be Pastor Charley's first time in Ghana, Togo, Benin and Mali.  They will be teaching at Bible Schools and Leadership Seminars. Debby is taking a team to Palawan, Philippines on November 10.
Writing for Special Prayer
Please pray with us for $9,000 to pay off our debt, $1,000 to buy a motorcycle for Aldous in Ghana, $2,000 in Plane tickets for Fred to go back to Africa and $1,000 for Debby to buy her tickets back to the Philippines.
THANK YOU AND GOD BLESS YOU!