Dear Friends,
Thank you so much for your prayers.  We can really feel the strength that comes from your prayers.  They were needed and very much appreciated.  We need you!  THANK YOU SO MUCH!
Roughing It For Revival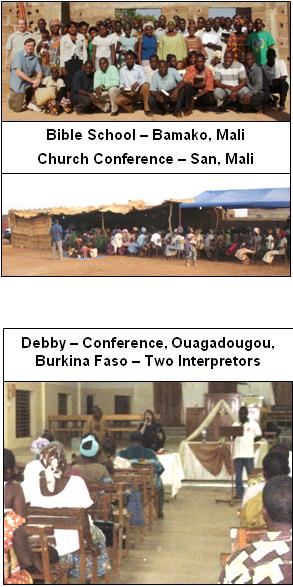 We had a very full and blessed trip in Africa.  We ministered in six countries (listed below), but not exactly as planned.  We must always be flexible.  So we pray and commit our ways to the Lord and trust that He will lead us.  Some days things can be difficult and uncomfortable when you are working in Africa – but it is worth it to be a part of the great revival that is happening there.  Thank you for praying for us to be in God's will, everyday.  We are glad to touch and train these dear ones in Jesus' name.
1) Senegal
Fred and Bill began their trip in Dakar, Senegal, along with Pastor Andy Zack from Buffalo.  It was a good flight from New York and a good weekend in Dakar.  They enjoyed the fellowship with friends and were able to encourage the church there.  Please pray for this work.
2) Mali
The three of them then flew on to Bamako, Mali.  Andy and Fred taught Bible School for 2 weeks with church services every night and Sunday.  It is a blessing to teach the Word of God to hungry hearts in this land where revival is breaking out.  Leaders are so needed and Bible School is where they receive that training.
Pastor Andy then flew back to New York, but Fred and Bill had 2 more weeks of fruitful ministry in Mali.
2) Mali – continued


Fred and Bill traveled to the city of Segou for Sunday service at a new church plant.  Afterwards they traveled on to Koutiala. Fred taught a three-day Leader's Seminar and preached at a church each night for all the people.
Then they went on to the town of San for a three-day church seminar and Sunday with an exciting new young church.
Then they went on to the city of Sikasso.  This was Fred's second time there.  It is very touching to be a part of the revival that is breaking out in places like Sikasso.
3) Ghana
After Mali, Bill and Fred traveled for two days through Burkina Faso to Tamale, in the North of Ghana.  At the same time Debby and Cathy (Bill's wife) flew from the US to Accra, Ghana, and then came North to meet them.  Fred taught at a four-day Leader's Seminar and Debby spoke at a regional headquarters church in the evening.
4) Burkina Faso
Debby and Fred went North to Ouagadougou, the capital.  Hannah flew in from the USA and met them there.  Fred taught Bible School.  Debby spoke at a joint church conference in the evenings and we both preached on Sundays.  Burkina is having a time of political unrest but God kept us safe.  Thank you for praying for our safety.
5) Benin
We came by road down Benin.  First we came to the town of Natintingou and preached there.  Then we traveled on by bus to Cotonou.  Fred taught at a new Bible School as well as the one we always teach at.  Debby taught at the new Bible School morning and evening.  On the last weekend, we spoke at the big inauguration of the new church in the stadium.  Sunday night Debby sang at a wonderful gospel music celebration.
6) Togo and Ghana Again
Monday night we spent in Lome, Togo, and Tuesday we came to Accra.  Debby, Hannah and Cathy flew back to the USA.  Fred and Bill traveled over to Takoradi for a weekend of meetings with friends from Ivory Coast and ministry.  Then they came back to Accra and both taught a new believers class that ended with water Baptism for about 50 believers and Easter.
Crisis in Ivory Coast
Most of you know we lived in Abidjan, Ivory Coast, for years.  Maybe you have seen this once beautiful, peaceful country in the news.  10 years of, political unrest erupted into a terrible civil war.  We have so many friends there and some of them were able to flee.  Fred met with some of the refugees and heard first hand news from Abidjan.  Thank you for praying for Ivory Coast.
Pastor Antoine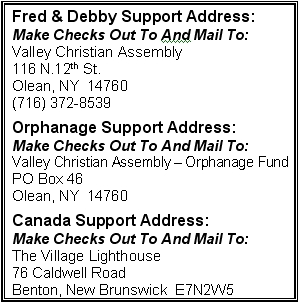 Pastor Antoine, our good friend from Abidjan, Ivory Coast, was on a bus when it had a terrible accident.  Since last September, he has been waiting for finances for another surgery on his leg, to be able to walk again.  If you would like to help him, please send us a check with a note "For Pastor Antoine's Surgery."
Please Continue to Pray for Us
Pray for Wisdom, Finances, Health and Protection.  We have so many ministry opportunities and so many needy people asking us for help.  We still need to pay off about $4000.00 in debt and we need an increase in our support.