Dear Friends,
It's getting to be fall and that means it's time for us to get back to the mission field.  Fred is excited to be going back to West Africa, along with our pastor, Debby's dad, Charley Elwell.  We drive to New York City on September 22nd.  Then fly to Morocco on the 23rd and then on to Bamako, Mali.  When Fred returns in November, Debby will be returning to the Philippines November 8th for ministry there.
Thank you so, so, very much for your prayers and giving!  We truly need every prayer and dollar.  THANK YOU!
Augustin helps VBS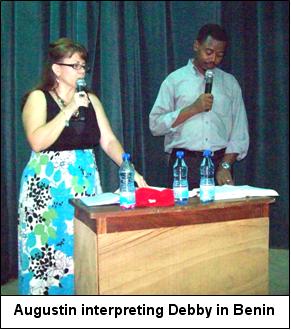 Pastor Augustin of Benin has been with us for the last 2 months.  Some of you may have meet him as he traveled with us.  He was an interpretor for us and then became a pastor and now he has multiple churches. He has been a big help to us in so many ways.  We video recorded another Bible Class with Pastor Charley and Augustin did the French audio track.  He also recorded a French track for a previously recorded Video teaching of Pastor Charley.
Please Pray for Us
Africa Travel Plans
On Thursday, Sept. 22nd we drive to New York City.  Augustin will fly that night back to Cotonou, Benin.  Fred and Charley are flying to Africa on Friday the 23rd.  They will be in 4 countries and a number of cities & towns.  In Bamako, Mali, Charley will teach "Tabernacle of Moses" and Fred will teach "Romans."  In Cotonou, Benin, Charley will teach "The 12 Tribes" and Fred will teach, "Principles of the Good Shepherd."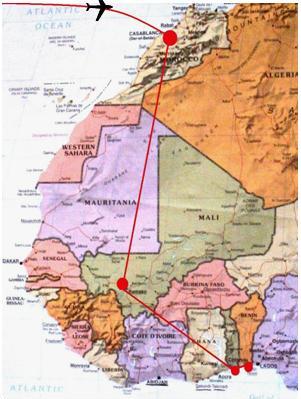 Here is the map and the plan so you can be praying for us on our trip.
We want & need your prayers!
Follow us with "Facebook" on the internet. 
Sept.23rd – Fly to Casablanca, Morocco, arrive morning of 24th
Sept.24th – Evening – fly to Bamako, Mali
Sept.25  Arrive Bamako, Mali 1am.  Church in the morning
Sept.26th – Oct. 9 – Fred & Charley teach Bible School for 2 weeks also evening services & Churches on Sundays
Oct.10 or 11th – Fly to Lome Togo
Oct.12-16th – Togo Seminar (town to be announced) and churches.
Oct.16th – After church go by road to Cotonou, Benin
Oct. 17-21st – Charley and Fred teach at 2 Bible Schools
Oct. 22nd – Visit the Orphanage
Oct. 23rd – Churches
Oct. 24-26 – Bible School
Oct. 27-29th – Leader's Seminar
Oct. 29th – Visit the Orphanage
Oct. 30th – Churches
Nov. 1st – Fly to Morocco and USA
Nov. 8-29th – Debby to return to the Philippines
Prayer Requests
Safe Travels in West Africa.
That we are an encouragement.
That the leaders we help train will be effective in their ministries.
Good Health & good, safe food.
Necessary finances to pay for the Seminars, Bible Schools, workers, travel, etc. Also Pray and believe with us to be able to pay off our remaining debt and be debt free.
Debby speaking at Women's seminars this fall and as she buys her tickets and prepares for ministry in the Philippines.
All plans are subject to change!