Dear Friends,
We are so thankful for your partnership with us in the Gospel.  Your prayers and support have been invaluable.  We became missionaries August 1997 – 12 years ago.  We went off to Russia in September.  January of 1998 we flew to Ivory Coast and began ministry in Africa.  As Fred gets ready to fly back to Africa and Debby heads to the Philippines in a few more weeks, we reflect at what God has done and are amazed.  Glory be to God!
Fred Returns to West Africa – Please Pray
August 26-27 – Fred & Robert fly to Accra, Ghana
August 27-28 – Drive North to Tamale, Ghana
August 29-Sept.1 – Graduation and Ministry in Tamale
September 2-4 – Travel to Accra and Ministry
September 5-6 – Robert flies & Fred goes to Lome, Togo
September 6 – Preach in Lome & travel to Cotonou, Benin & Frank Parrish of WorldMap arrives
September 7-9 – WorldMap Conf.  –  Cotonou, Benin
September 10-11 – WorldMap Conf.– Porto-Novo, Benin
September 12-13 – Travel to Parakou, Sunday service.
September 14-16 – WorldMap Conf.– Parakou, Benin
September 17-18 – WorldMap Conf.– Natintingou, Benin
September 19 – Travel to Ouagadougou, Burkina Faso
September 20 – Sunday service, & Meeting with Pastors & Bill Chapel arrives
September 21 – Travel to Bobo Dioulasso, Burkina Faso & Meeting with Pastors
September 22 – Travel to Koutiala, Mali
September 23-26 – WorldMap Conf.– Koutiala, Mali
September 26 – Travel to Bamako, Mali
September 27-30 – WorldMap Conf.– Bamako, Mali
October 1 – Frank Parrish returns to USA.
October 1-3 – Fred teaches Bible School – Bamako, Mali
October 3 – Fred and Bill fly to Dakar, Senegal
October 4 – Sunday service Dakar, Senegal
October 5 – Fred and Bill return to USA.
Twelve Years of Missions – Fruit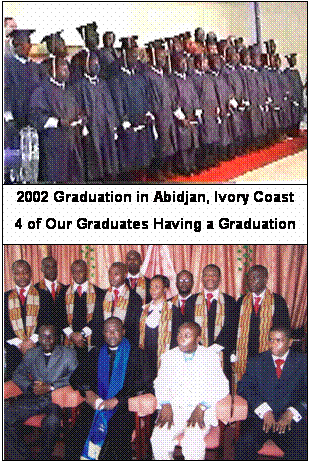 The Bible School in Abidjan, Ivory Coast was a 2-year school.  We had three graduations, 2000, 2002 and 2004.  We had students from Ivory Coast as well as a number of other countries in West Africa as well as Central Africa.  Those students and graduates are now involved in all kinds of works in Africa.  Some have moved out and live in France, England and other places in Europe.  A couple of our former students are now in the U.S. and one in Canada.
Four of our graduates in Abidjan, Ivory Coast, have been running a Video Bible School there.  They are Essua, Mambo, Alphonse, and Amos.  They had their first graduation in April of this year.
Aldous, Francis and David, that graduated last October in Accra, Ghana, are about to have their first graduation in Tamale, Ghana.  Fred and his brother, Robert, are on their way to that graduation, on Saturday, August 29th.
Debby Returns to the Philippines
Debby has a busy Fall schedule as well.
September 25-27 – Columbus and Hamler, Ohio
October 16-18 – Salamanca, NY – Woman's Conf.
October 23-25 – North Haverhill, NH – Woman's Conf.
October 28 – November 17th – Debby and team minister on the island of Palawan in the Philippines
Prayer Requests
We really appreciate your prayers.  Please pray for our travels and health, as well as those who travel with us.
Please pray for Fred and the 4 WorldMap Leader's Conferences in Benin and the 2 in Mali.
Pray for the Bible Schools and Video Bible Schools – that the students will grow in God and be good leaders.  Pray for the graduates to fulfill the plan of God in their lives
Pray that we would be an encouragement to all those who are discouraged in their labors for Christ.
High Blood Pressure – This seems to be a big problem in West Africa.  Please continue to pray for Pastor George in Cotonou, Benin.  His uncontrollable Blood Pressure has caused him a number of strokes and paralysis.  He is currently disabled at home and not able to be a pastor.
Please pray for the wife of Pastor John Gake in Lome, Togo.  Last December she had a stroke from high blood pressure.  Please pray for her total healing from paralysis.
Thank you so much for your continued support in these difficult times.  May God Bless you abundantly!