Dear Friends,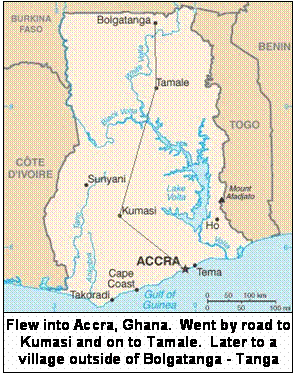 We are Thankful and Grateful!  First of all we are grateful for Jesus coming to this world and dying for us.  Second of all, we are thankful for you and your partnership with us in this Gospel work.  We pray God will bless you abundantly!
2 Corinthians 1:11  "as you help us by your prayers. Then many will give thanks on our behalf for the gracious favor granted us in answer to the prayers of many."
2009 has been a year with struggles for all of us.  We know that all of the fruit that we've seen in this past year is a result of God's blessings and prayer.  We are so thankful that you have been faithfully praying for us and have not forgotten us, nor the work.  God has answered all of our prayers and now we can all give Him thanks together.
Please take a moment to read the brief report of Debby's work in the Philippines and Fred's ministry in West Africa, on the following pages.
Plans for 2010
New Doors Open – Central Africa
We had plans for Debby to speak at a Ladies' Conference in Port Harcourt, Nigeria, but because that area is unstable at this time, it was changed and Debby was asked to speak in Brazzaville, Congo, in Central Africa.  Pastor Augustin, who calls us Mom and Dad, went there to open a Video Bible School for us.  He called from Brazzaville to say that now it will be a full Leader's Seminar the second week of February.  Please pray with us about this.  This will require extra plane tickets for us and also a ticket for Augustin.  Our friend, Judy Mundy, will also be traveling with us.
Benin
A few years back, Fred went to Natintingou, located in the far North of Benin.  He promised to come back and have a seminar there.  Fred has scheduled it for March 7-10.  Please pray for this seminar and expenses.  We have cut back on most seminars because of the costs – meeting hall, PA, food and transportation for the leaders who come from outside the town, etc.
We will also be teaching at "Source of Life" Bible School in Cotonou and speaking at a conference in Parakou.
Ghana
We will also be back in Ghana again this year.  We will be in Accra, Tamale, Tanga and some villages in the North. 
Togo
THANK YOU SO MUCH FOR YOU LOVE, PRAYERS AND SUPPORT! 
We have only ministered in Lome and Vogon in Togo up to this point.  This year in Togo, we hope to go to the North, where it is more Muslim and unevangelized.  There are two cities we hope to visit – Atakpama and Kara.  We want to see what God may develop with us there.  Please pray with us about these cities also.
Fred's Africa Report
Ghana
Fred began his fall African ministry in Ghana, accompanied by his brother Robert.  On the way to Tamale, Robert stepped into a large open sewer ditch.  His leg was okay but he badly injured his foot. 
The graduation at Tamale was a great success.  The church was packed, with people standing outside.  The platform was full of pastors.  Everyone was happy to see these 15 faithful men receive their diplomas. 
A few days later we went to the Bolgatanga region.  People in the village of Tanga, wanted a Video Bible School in their village.  David and Francis have moved there and they now have the Video Bible School going.
Togo
Fred only had one Sunday to spare in Lome, Togo.  But it was good to see and be with our friend, Bishop Gake, and his church.  Bishop Gake traveled with Fred to Cotonou, Benin, to attend the seminar there.
Benin
Fred spoke at 4 seminars in Benin with Frank Parrish of World Map.  We also handed out materials to the church leaders.  These seminars were in 4 cities, Cotonou and Porto Novo, in the South, Parakou in the middle of the country, and Natintingou in the North.  All the seminars had more leaders desiring to attend than places for them to sit.  Our friend, Pastor Nazaire, is now the president of the largest association of pastors in Benin.  He has worked hard bringing unity among the 5 different groups of Pastors.  These seminars brought them all together – a miraculous unity – a great answer to so many prayers!
Mali
Fred passed through Burkina Faso, in between Benin and Mali and spent the weekend preaching in Ouagadougou.  Bill Chapel flew in to meet Fred there.  On the way to Mali, the car rolled on to Fred's foot – but, miraculously, his foot was fine when the car moved ahead and off from it.
There were 2 seminars in Mali with Fred and Frank Parrish of World Map.  The first was in the town of Koutiala and the second in the city of Bamako.  They also experienced incredible unity at the seminars in Mali as well – thanks for Praying.  After the seminars, Fred taught at the Bible School in Bamako.  Then on Saturday they had Graduation.
Senegal
Fred and Bill flew on to Dakar, Senegal.  We have not been in Senegal for a few years because of the death of Pastor Michel's wife and because he moved to Belgium.  It was so good to see old friends and be in the church there again.
Debby's Philippines Report
Debby's trip to Palawan, Philippines was, like always, very eventful and fruitful.  Her team included her dad, Charley Elwell, Christine Dunk, Becca Carella, Josh Lehman, and 2 nieces, Angie Creed and Hannah Davis.  They were with Bishop Jun Virgonte and traveled to various churches in Palawan.  They arrived on a Friday afternoon and Pastor Jun had a graduation for Charley to attend the very first morning before they even left Manila.  That afternoon they flew to Palawan and continued with their whirlwind trip.  They traveled to 19 locations and spoke and sang at over 30 meetings.  They held some one-day Pastor's Conferences and visited many rural churches.  To say they were busy would be an understatement.
Pastor's Wife Declared, "God is Good"
One of the most memorable meetings was near the end of the trip where Debby spoke about forgiveness.  Before the service they were introduced to a young woman who had been stabbed 32 times.  She was sleeping in the home of her employer, when his son (who was crazed by drugs) entered and stabbed her in her sleep.  The young woman showed everyone her scars that still looked red and angry. During the service she responded to the Lord.  Sitting on the floor she cried and cried while Angelina held her.  Afterwards she said that God helped her forgive her attacker and that she felt free from the pain that had been in her heart since the attack.
Part way through the trip they spent time with a tribal pastor and his wife who had been kicked out of their house and church.  Remarkably during that evening's meeting the pastor's wife freely worshiped the Lord, declaring, "God is good.  God is good."  She had lost everything and yet she could say that God is good.
On the last day that they flew from Manila to Chicago, Pastor Jun said he had one more service for them to go and minister at. So on the way to the airport to check in their luggage they were taken to the customs office at the airport.  This was not a church but a regular gathering of customs workers directed by the head customs official in Manila.  There were not many people in the meeting however it was a privilege to pray for the nation of the Philippines and declare a final blessing on that nation.  It was a unique way to finish a mission trip
Every time I (Debby) travel to Palawan, I am inspired by the intensity of the worship services in the villages.  People who have so little are so happy.  They are always very grateful for our visits and often thank us with tears.  It is a joy to experience God with these wonderful people.  They are indeed some of the happiest people in the world.  Thank you so much for your support of finances and prayers that make these trips possible.
Thank You So Much for Praying
We really appreciate your prayers. 
Please pray for our travels and health as well as those who travel with us.
Please pray for financial provisions for us and the work in Africa and the Philippines.
Thank you so much for your continued financial support in these difficult times.
May God Bless You Abundantly!
Thank You!
Fred & Debby Support Address:
Make Checks Out To And Mail To:
Valley Christian Assembly
116 N.12th St.
Olean, NY  14760
(716) 372-8539
Orphanage Support Address: 
Make Checks Out To And Mail To:
Valley Christian Assembly – Orphanage Fund
PO Box 46
Olean, NY  14760
Canada Support Address: 
Make Checks Out To And Mail To:
The Village Lighthouse
76 Caldwell Road
Benton, New Brunswick  E7N2W5