Dear Friends,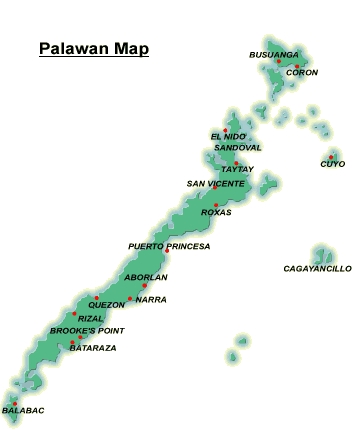 This is just a short newsletter to ask everyone to pray for us while we are traveling and ministering in the Philippines.
By the time you get this, we will have already flown to Manila and on to Palawan.  On the map to the right, you will see the island of Palawan.  It's about 240 miles long and 30 miles wide.  We also plan to visit the smaller islands of Cuyo, and Dumaran as we travel from church to church.  We will teach at Bible schools and seminars as well as many local churches during July and August.  On this trip, we will have the time to stay and teach for an extended time in many locations.  This is a great opportunity and open door.  We will return to Manila and home in early September.
Pray for an outpouring of the Holy Spirit and an open heaven everywhere we go.  Pray for our health, that we are strong to do the work God has called us to.  Pray that we have safe travels.  We will travel in Pastor Jun's truck as well as planes, shuttle buses, big boats and little boats, taxis, motorcycle/tricycles, and jeepneys.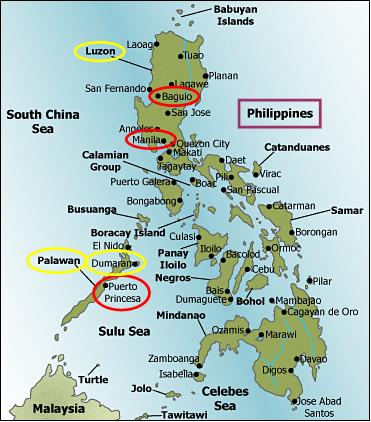 Thank you for Praying and Supporting us as we go! 
Philippines – Palawan
On the largest island of Palawan, there are churches from the top to the bottom that seldom have visitors.  In many cases our team is the only outside visitors they have all year.  Some of the names of the villages, towns and cities we plan to minister in are; Manila, Baguio, Puerto Princesa, Macarascas, San Miguel, Roxas, Tay Tay, El Nido, San Juan, Aborlan, Princesa Urduja, Nara, and Quezon.
Fall Plans
After returning from the Philippines, we have a wedding in Florida.  In October we hope to return to Quebec and visit the 2 new Video Bible Schools there.  Fred has promised to teach "New Testament Survey" in Africa this fall at the Bible Schools.  He hopes to do that in the month of November.  You can see we have many plans – please be praying with us.
Help
The enemy has attacked us and tried to stop us in our health and finances.  Fred even had Malaria again a couple of weeks ago.  Our finances had fallen off dramatically.  By the grace of God, and your prayers, we will keep on.  But we need greater prayer support.  We need your prayers and financial support like never before!  We have more open doors than ever before – to more nations and in the nations where we already minister.
We need more monthly support partners – friends who would send $30, $50, $100 or more each month.
Please pray for us.  Thank you so much for sending your financial support.  We are praying that God will bless you abundantly in return!
Prayer Points
Pray for our finances.  Pray for new monthly support partners, for the needed monthly income, and to pay off our ministry debt.  (We were able to buy our tickets for the Philippines at a really good price – in answer to everyone's prayers – thanks.)
Pray for the Bible Schools that are training the workers.
Pray as the workers that are ministering out in the villages and towns.
Pray for the workers that are taking the gospel to unreached villages and planting churches.
Pray for Protection from all attacks of the enemy.  Pray for Health, Strength and Safe Travel for all of us.
Pray for Peace and stability to return to the countries of Mali and Ivory Coast.
Pray for the 2 Video Bible Schools in Quebec.
Pray for Fred's return to Africa this fall.