Dear Friends,
Philippines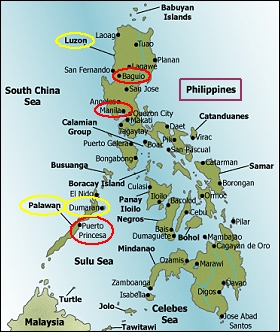 Thank you for sending us to the Philippines this summer. This was Fred's first trip and for Debby something like her 10th. It was an amazing trip and great ministry.
Quebec
In October we went to New Hampshire and then Quebec (French speaking Canada) for a week. We are excited that the third Video Bible School is starting there. We did not travel North to the Algonquin people, to visit that school, but we did go 5 hours, North to Lac St-Jean, to introduce the Video Bible School to them.
Africa
Fred is returning to Africa on November 8th. He will be in Benin, Togo and Mali. Please be praying for him.
Thank you so much for Praying and Supporting us through the years. God is answering our prayers! It is a privilege to serve the Lord and to be your missionaries. You are a part of all that is accomplished. We pray that God will bless you abundantly in return!
Philippines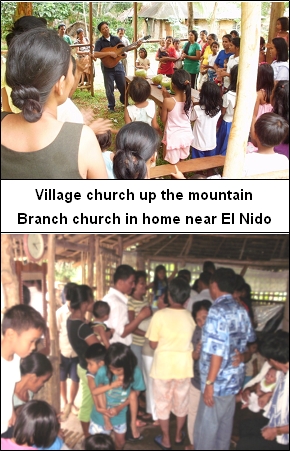 We were on three islands, Luzon, Palawan and Cuyo. On the main island of Luzon, we visited the cities of Manila and Baguio. We also traveled to the small island of Cuyo. Most of the trip we spent on the island of Palawan, where we traveled from El Nido, in the North, all the way past Quezon in the South. Both of us spoke in many churches in the cities, towns and villages. Fred taught at a Bible School and we both spoke at seminars. It is an awesome responsibility to teach and encourage leaders and future leaders. Thank you for your prayers and support.
Debby has been going to the Philippines for many years and has always wanted Fred to go and meet all of her good friends. We left in early July and stayed until the beginning of September. We traveled to many, many churches. Our transportation included Pastor Jun's truck, tricycles, taxis, shuttle bus and even boat.
The boat (an 18-22 hour ride) took us to Cuyo Island, one of the islands of Palawan. We arrived just in time for a Typhoon. This messed up our schedule, but we still had pastor's meetings and local church ministry. This Island is one Debby had visited with Marie-Louise a few years ago and it had been Marie-Louise's desire to return. We left her in the care of Pastor Judith when we returned to the main island of Palawan. She stayed for a month longer. We visited many churches and Fred taught at Living Waters Bible School while Debby traveled to other churches.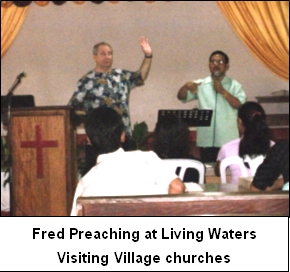 One of the places we visited was El Nido. Debby had hoped to show this awesome place to Fred and he was as awed as she thought he would be.
After we all met up, we left Palawan and flew back to Manila. Then we caught a bus and went to Baguio. This mountain city, at about 5,000 feet, is called "air-con city," because it's weather is always mild. There we had meetings with pastor Joseph and his Church. This ministry has a bible school and remote branch churches.
We promised to return to Baguio for March and to Palawan for April. We will again be speaking at seminars, Bible Schools and churches. Please be praying with us for that.

15 Years In Africa – 10 Years Itinerate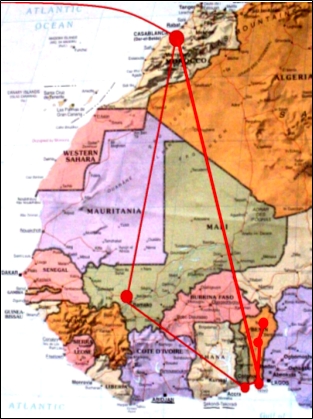 Nearly 15 years ago, in January 1998, we moved to Abidjan, Ivory Coast in Africa. 10 years ago, in November 2002, we traveled to Senegal and Benin and our ministry expanded into a traveling ministry in Africa and beyond.
Africa Plans
Fred has promised to teach "New Testament Survey" at the Bible Schools in Bamako, Mali and Cotonou, Benin. This completes the teaching of "Bible Survey" that he started at those 3 schools in March and April. Sonny (Keith) Grottanelli from Florida will be going with him. As always all plans are subject to change. Please be praying for us. Pray for good health, safe travel, finances and that we are a blessing and encouragement.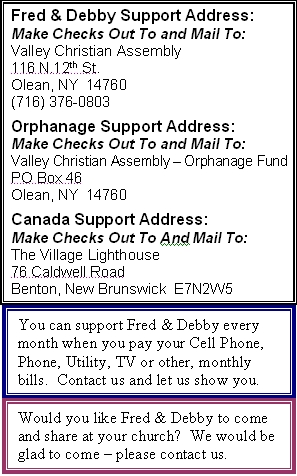 • Nov. 8 – Fly from New York to Cassablanca, Morroco
• Nov. 9 – Fly Cassablanca to Cotonou, Benin
• Nov. 11 – Cotonou – Church with Pastor Nazaire
• Nov. 12-16 –Bible School with Pastor Nazaire
• Nov. 17 – Visit Orphange – Pahu, Benin
• Nov. 18 – Churches with Pastor Augustin
• Nov. 19-21 – Bible School with Pastor Augustin
• Nov.21 – Travel North by road to Parakou, Benin
• Nov.22 – Travel further North to Banikoara, Benin
• Nov.22-25 – Crusade and Leader's Seminar – Banikoara
• Nov. 25 – Travel by road back to Parakou
• Nov. 26-30 – Bible School Parakou
• Dec. 1 – Wedding – Parakou
• Dec. 2 – Church(es) – Parakou
• Dec. 3 – Travel South by road back to Cotonou
• Dec.4-7 – Church meetings – Cotonou
• Dec. 7 – Travel to Lome, Togo
• Dec. 8 – Video Bible School meeting – Lome
• Dec. 9 – Church(es) – Lome, Togo
• Dec.10 – Fly to Bamako, Mali
• Dec.11-15 – Bible School – Bamako
• Dec.16 – Bamako – Church(es)
• Dec.17 – Fly to Cassablanca, Morroco & New York, USA
Help
We need greater prayer support. We are asking for your help. We need a miracle to pay off the ministry debt of $15,000. This includes Fred's plane tickets to Africa of $1872. We need $1000 for the crusade & seminar in Banikoara. We need your prayers and financial support like we have never needed them before! We need more monthly support partners – friends who would send $10, $25, $50 or $100 each month. Please pray for us. Thank you so much for sending your financial support. We are praying that God will bless you abundantly in return!