Dear Friends,
We are very thankful for your prayers and support.  Thank you so much for being our partner.  May God bless you a hundred times in return.  THANK YOU SO MUCH!!!  Please continue to pray for us and support us financially.
PHILIPPINES TRIP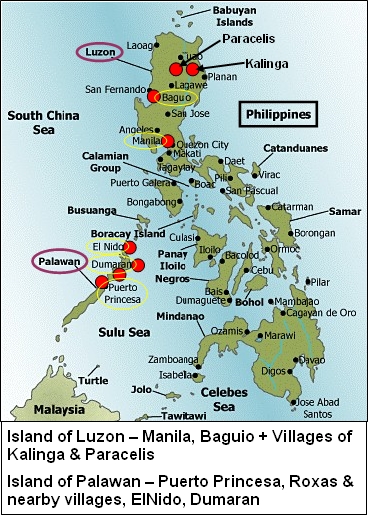 We spent March and April in the Philippines.  It was a wonderful and fruitful trip.  We were on the main island of Luzon and the island of Palawan.  Pastor Jun's annual pastor's conference was the center of our trip.  We also taught at a Bible School, spoke at some conferences and churches in the cities and the villages.  Report on back.
QUEBEC MISSION
You may know that the most unevangelized piece of all the Americas is Quebec, Canada – the French Speaking province of Canada.  We have been going there to encourage the believers for a few years.  Debby spoke at two Woman's Conferences in May in Quebec.  The first was with Pastor Judith in Lac St. Jean, about 8 hours north of Montreal.  The second weekend was at Ste. Julienne with our friends Pastor Peter and Francine.
Supporters
Thank you to each that is praying for us.  Thank you for your monthly financial support.  We pray God's greatest blessings on you.  We are so thankful for each one of our supporters and we pray for you.
In the last few years, our support has fallen off and we are behind financially.  Please pray for us to be able to build up our monthly support again.  We need new supporters that would join us in prayer and perhaps $25 or more each month.
PHILIPPINES REPORT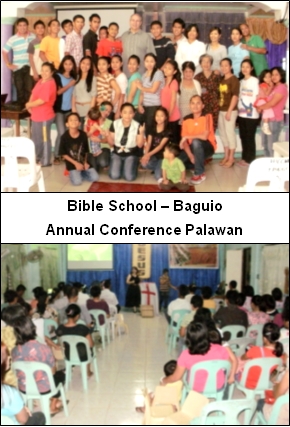 We spent March and April in the Philippines.  At the last minute our daughter, Marie-Louise, decided to go with us.  We flew from the USA through Korea, to Manila, the capital of the Philippines.
Baguio
We then took a 6-hour bus ride up the mountains to the city of Baguio.  It's 5,000 feet high and the temperatures are very pleasant.  We both taught Bible School there for 2 weeks at Pastor Joseph's church.  What a privilege to be a part in training workers for the harvest!  Thank you for sending us and praying for us.  Thank you for praying for the students we are training.
Fred also worked on recording the main Filipino language of Tagalog for the Video Bible School.
Manila
After Baguio we took the bus back to Manila.  It is a "hub" for us in the middle of our travels in the Philippines.  It is a huge, modern city with so many people that need to know Jesus.  We were blessed to speak at Bishop Ellie's church while we were there.  It is an exciting church full of youth.
Palawan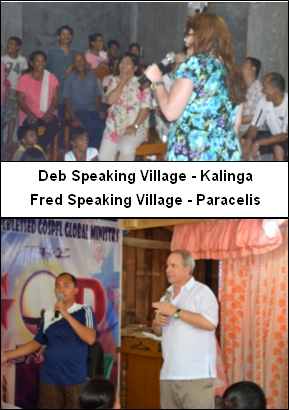 From Manila we flew to the island of Palawan.  We arrived just before Easter and spoke at Pastor Jun's church Easter conference.  The next week we spoke at his annual leader's conference – which was the center of our trip.  His pastors cover this island from one end to the other.  By God's grace we were an encouragement to these dear pastors as they continue steadfastly in the work of the Lord.
Afterwards we traveled by road to speak at some of the churches.  We drove north and spoke at churches in and around Roxas.  Then we traveled further North to ElNido and then we traveled to the Southeast to Dumaran speaking at churches and encouraging pastors.  Lastly we returned to Puerto Princesa and flew back to Manila.
Back to Baguio to Villages
Back in Manila we took the bus back up the moutains to Baguio.  Pastor Joseph had asked us last year if we would go with him to some of the village churches he works with and we said that we would on this trip.  We twisted around the mountians on narrow roads and down onto a plateau.
The first village was Kalinga.  It's near to the city of Roxas in Northern Luzon.  Debby spoke to a house full of people with some even hanging in the windows.  The second village was Paracelis.  Where we had a weekend conference.  This village was even more remote than the first.  Then we returned to Manila and flew home tired & blessed!
Please Pray for Us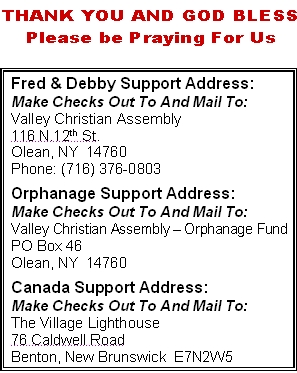 Marie-Louise is 18 and about to graduate from High School.  She is looking for a job.  She plans to start at a local Community College or Online University this fall.  Please Pray for her future.
When we purchased our latest plane ticket to the Philippines, we went farther into debt and now we owe nearly $20,000.  Please Pray to pay off the debt and the needed increase of support of more than $1000 each month.
Please Pray for us to be right in the middle of God's will as we make our travel plans.  We plan to be back in Africa – in Mali, Benin and other countries, for September and October.  We plan to be back in the Philippines in November and December.