Dear Friends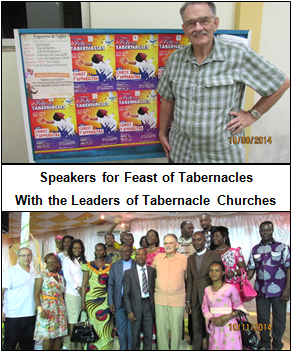 We had a wonderful trip to Africa. We were well received everywhere we went and had fruitful ministry. Thank you.
We went to Ivory Coast and Benin. We planned to go to Mali, but when a case of Ebola showed up there, we canceled that part of the trip and instead returned to Ivory Coast for further ministry.
Pray Against Ebola
Ebola is only in three countries in Africa and we have never been to any of them. In Africa they take the threat of Ebola very seriously and screen everyone and are careful.
Many don't realize how huge the continent of Africa is. The continental U.S. would fit 3 times into Africa. So you can go to Africa and still be many thousands of miles away from any danger from Ebola.
Please pray that Ebola stops killing in Africa. Pray that we can return in early 2015 because we have big plans for Africa or we'll have to reschedule and go someplace else.
FRED'S AFRICA REPORT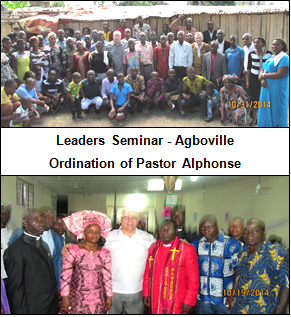 On October 6th, Fred and Pastor Charley Elwell returned to Africa. They flew through Morocco to Ivory Coast. After a couple of weeks of fruitful ministry there, they flew on to Benin for two Bible Schools. We had to cancel Mali, and returned to Ivory Coast. Finally we flew back to Morocco and New York. Thank you for praying for us. Pray we can return in early 2015 and continue this fruitful ministry.
Ivory Coast
God has opened the doors in Ivory Coast for us again. Charley made his first trip to Abidjan, Ivory Coast, in 1993 and sent Fred & Debby there in 1998. It was Fred's 2nd time back this year and Charley's first time back in 10 years. The Bible talks of sowing & reaping – we are reaping what we sowed many years ago. In Abidjan Fred was able to reconnect with more students and see their churches & ministries. Fred also ordained three of our former students.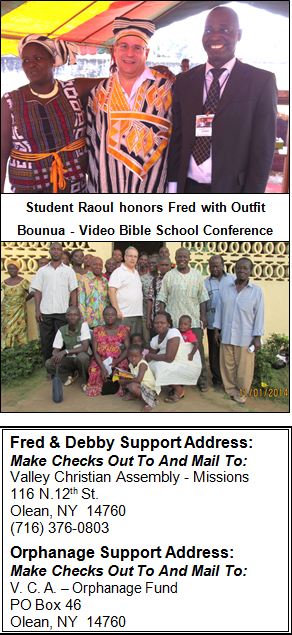 They were the speakers at a large celebration with the Tabernacle churches called, "The Feast of Tabernacles." We also spoke at churches and set up seminars. When we returned we had the seminar in Agboville.
Benin
We both taught at two different Bible Schools and preached at churches. Fred also had meetings to encourage the Pastors of our departed friend, Pastor Augustin.
DEBBY ON HER WAY TO THE PHILIPPINES
November 12th, Debby will be traveling to Manila with Linda Shaar from N.Y.. From Manila they will travel to Baguio City and then Palitud and Kalinga, where they will be preaching and ministering in churches. They will return to Manila, Thanksgiving week. Linda will return to the USA and Pastor Judith and Odile, from Quebec, Canada, and Kathy McDermott from S.C. will fly in. The four will fly over to the island of Palawan, where they plan outreach to about 18 places – churches, tribal outreaches and new church plants. Both Odile and Kathy are nurses who are looking forward to helping people while in Palawan by having first aid clinics at the churches in the villages where the team travels too.
Bishop Jun Vigonte, the man we have worked with in Palawan for more than a decade, had a serious heart attack and surgery, while in Japan. He will return to Palawan next week. Please continue to pray for him.
Please pray for this trip. The hotel reservations, flights and other transportation plans need to work as planned. They will be traveling hard the whole time. Pray for good health and that they are a blessing to the people of the Philippines. Pray that many will come and experience the presence of God, be set free and healed.