Dear Friends,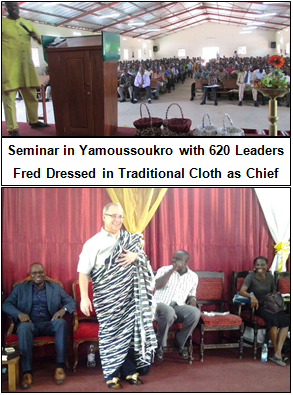 Thank you so much for all of your prayers, especially for Fred in Africa. As we often write, all plans are subject to change. Fred's time in Africa did not go according to his plans, but according to the plan of God. It was a wonderful, blessed time of ministry. Thank you so much for your prayers and financial partnership!
We are connected in the work of the Gospel. II Corinthians 1:11 Ye also helping together by prayer for us, that for the gift bestowed upon us by the means of many persons thanks may be given by many on our behalf.
Prayers
We will be in Ivory Coast for the month of May with Debby's sister, Cheri Harrison, (her first time) and our daughter, Marie-Louise (her first time in many years). Please continue to hold us all up in your daily prayers. As you pray for us, we believe that everything will work out according to the will of God and every need will be met.
FRED'S AFRICA REPORT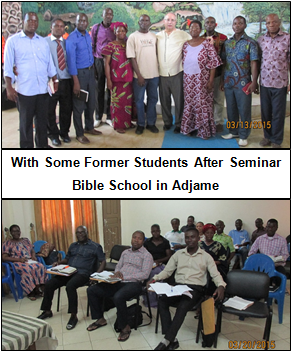 I flew to Ivory Coast in Africa on February 27th. I spoke at 12 Leader's Seminars in about 6 weeks, taught at 3 Bible Schools, spoke at a Video Bible School and the début of another. I spoke at 8 churches and participated in a baptismal service. I also traveled off to speak at 2 village church plants. It was a busy and blessed time!
Ivory Coast has faced a de-christianizing. With the war the country was split in two for many years. The North was held by predominately Muslims. During that time some Christians went back to traditional beliefs = animism and others turned to Islam. The number of Christians declined. But God is doing amazing things in this nation. It's ripe for a second harvest of souls.
The greatest privilege of my life is speaking to leaders. The hearts of the leaders were so open on this trip. I spoke to them about the most important thing in the ministry – their heart. We had leader's conferences in 7 different areas of the city of Abidjan – it's the 7th largest city in Africa. . We also had seminars in 5 towns outside of the city of Abidjan in the Southern area of the country.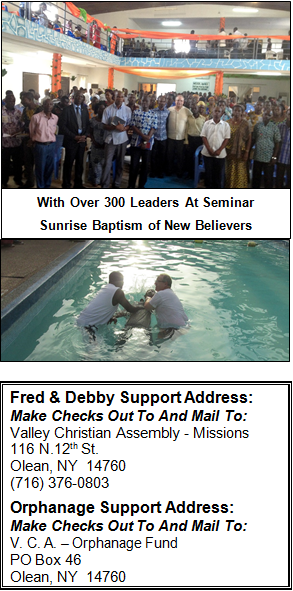 There are three Bible Schools for us to teach at in Abidjan now. One is in the church in Adjame where we had Bible school years ago. I taught the book of Romans there for a week. Also every Sunday night I taught Bible Survey at our old home church in Port Bouet's Bible School. I also taught at a partial video and part live school that 2 of our graduates run.
Africa Ministry in May
Abidjan, Ivory Coast, Africa.
May 4th – Fred, Debby, Marie-Louise & Cheri drive to New York.
May 5th – Fred, Debby & team fly to Abidjan via Morocco
March 8-10th – Church Seminar
March 9th – Visit the Village – Vitre II
March 10th – At Our Old Home Church in Port-Bouet
Every Sunday evening Bible School at church in Port-Bouet.
May 11th – Yamoussoukro
May 12-15th – Fred & Debby teach Bible School in Abidjan
May 14-16th – Debby & Cheri speaking at Lady's Conference
May 17th – Cheri Harrison Flies back to USA
May 18-24th – Fred & Debby Seminars
May 26th – Fred, Debby & Marie-Louise fly back to USA
Please Pray
Please pray for all our flights and travels.
Pray that our plans to be God's plans and that we are a blessing and encouragement everywhere we go.
Pray for our daughter, Marie-Louise, as she finishes her second year of college the day before we fly to Africa.
Pray for our health and safety.
Thank you for Praying for us.