Dear Friends,
Ministry in Africa in 2015 has been fantastic so far. It was a wonderful time with many touched & encouraged.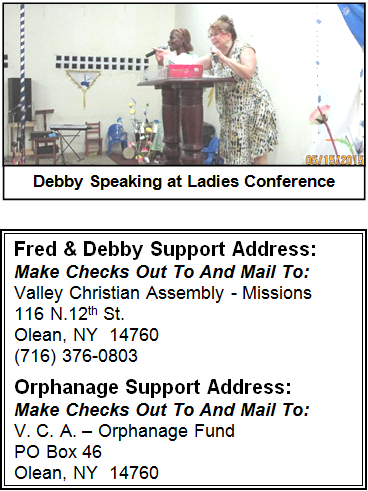 Fred spoke at 13 Leader's seminars – 7 in different areas of the city of Abidjan and 6 in the southern area of the country. (See back) Over the next couple of years we plan to have seminars in each region of the country to encourage the leaders. Please pray with us for that.
Fred & Debby also taught at the Bible School in the Adjame section of Abidjan and Fred taught at 2 other Bible Schools and visited and started Video Bible Schools.
Debby and her sister, Cheri, spoke at a large Ladies Conference with so many encouraged.
For the first time since 2002 we were only in Ivory Coast & didn't get to any other countries. This fall we must go to Benin, Burkina Faso & Mali as well as Ivory Coast.
Thank you so much for your prayers and financial partnership! We need you and pray God Bless You!