Dear Friend,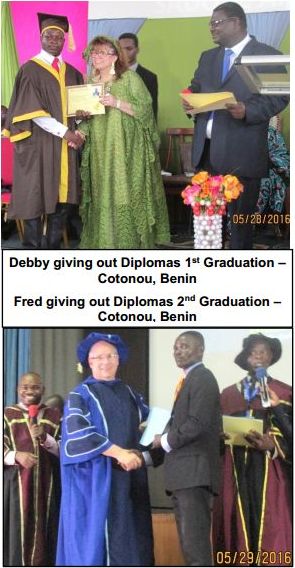 We had a great trip to Africa in May & June. We were in three countries, Benin, Togo and Ivory Coast. Then Debby was back in Africa again in August. Thank you for praying
for us while we were there!
This trip was one that Debby & Fred were able to make together. Also our daughter, Marie-Louise, was able to go with us. It was her first time to be in Benin & Togo with us
in many years. She stayed on in Abidjan when we came back so that she could further her French language skills.
Debby has been invited to speak at many conferences this summer and fall.
Debby went back to Abidjan in August to speak at a large conference. Fred was not able to go back to Africa in MidSeptember because of lack of finances. We did buy Debby's plane ticket for her to return to the Philippines in November.
We want to say, "Thank you for all of your love, prayers, and financial support." May God bless you a hundredfold in return!
AFRICA – SPRING & SUMMER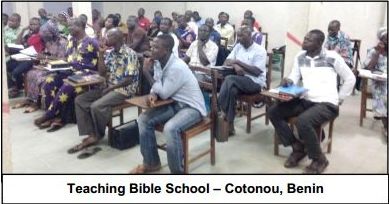 In May, Fred flew back to Africa, this time with Debby and Marie-Louise. First to New York City then flights to Morocco and on to Cotonou, Benin. After ministering in Benin, we went by road to Lomé, Togo. Lastly we flew over to Abidjan, Ivory Coast. Debby and Fred flew home from there, but Marie-Louise stayed on in Abidjan to work on her French & visit family. The ministry in each city was a wonderful blessing to all.

Cotonou, Benin


Over the years we have taught at a number of Bible Schools in Benin. Since October 2002 we have taught at Pastor Nazaire's and we have been blessed to be a part of a number of the graduations. After teaching at the school in May, we were blessed to be a part of another graduation.
We have taught at other in Benin as well. Since 2010 we have been teaching at the Bible School of Paul Uzoma.  This year we were a part of that Bible School's graduation.
They dressed us up in all the robes and rented an expensive big hall for the program.

Lomé, Togo
We traveled by road across the border to Togo and came to Lomé. We spoke at our good friend, Bishop John Gake's, church. We also had a number of meetings with the heads
of the pastor's associations for the upcoming WorldMap conference in February.

Abidjan, Ivory Coast
Then we flew over to Abidjan in early June. We visited Video Bible Schools, spoke at churches and a crusade. We also worked on the WorldMap seminars for September.
Debby returned to Abidjan in August to speak at a large conference with over 4,000 attendees.
Fall 2016
Since we've gotten back from Africa, Debby has had more calls to speak then ever – both in the States and abroad.  Please be praying for her as she's traveling this October to speak at a number of conferences in the Northeast. She will spend the whole month of November in the Philippians on the Island of Palawan and its surrounding small islands.
Fred is heading back to Africa in February 2017 to teach Bible School in Mali. Pastor Marc says they have 69 new students needing teaching to prepare to be leaders.
Prayer Needs:

 Pray for Debby traveling and speaking in the States this fall.
 Pray for Debby in the Philippines for the month of November.
 Pray for our daughter, Marie-Louise, this is her last year of College and she is finishing it online.
 Pray for our finances. We hit 10,000 of debt and are taking drastic measures to get that paid off.
 Pray for Fred's trip to Mali to teach at the Bible School in February.
 Pray for our health & strength & safe travels.
 Pray for God's direction in all our plans & travels.
We need and appreciate your prayers and support. We can only do what we do with you standing with us.