Dear Friends,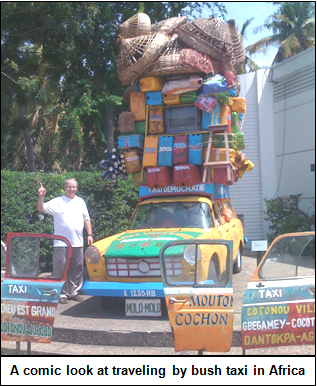 Greetings from Africa. We are so glad to be back here and together. Today we are in Lome, Togo.
We weren't able to get this mailed out to you before we flew to Africa, so here it is in digital format.
Africa
We are both in Africa at this time. We flew to Cotonou, Benin and Fred taught at one Bible School morning and night. Debby spoke at churches many evenings. Saturday we both spoke to and prayed for all the Bible school students. After that, we traveled by road to Lome, Togo. Thank you so much for being a part, sending us and praying for us.
Supporters
Our supporters are the best! We want to thank each one of you for praying for us and supporting us. We need you and we pray God's greatest blessings on you throughout 2014.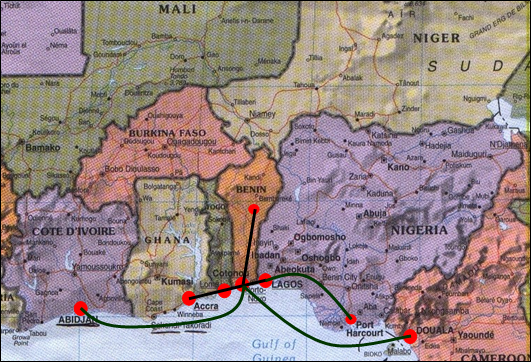 Plans
We had our tickets to fly on February 21st but when we got to the airport, fights were canceled and we had to be rescheduled to fly a day later. We arrived in Cotonou, Benin, via Paris, France, Sunday night, having missed the Sunday services we were scheduled to speak at. As always in life, all plans are subject to change. Some of our schedule could not be organized until we actually got here.
Planned Schedule


Cotonou, Benin will function as a hub for us on this trip. Most of our program is scheduled by the week, as you can see below.
February 24-28 – Bible School with Pastor Augustin & Paul – Done already!
March 1-7 – Lome, Togo, Speak at churches & Bible School – We are here now!
March 8-10 – Go to Accra, Ghana, Speak at churches & meet with pastors and former students.
March 11-16 – Travel back to Cotonou, Benin, and then North to Abomey where Debby will have a ladies Conference and Bohicon (a city next to it) for a weekend of special services at a Church.
March 16-21 – Travel back to Cotonou for a week of Bible Schools – Fred teaching in one and Debby teaching in another.
March 22-April 7 – Fly to Abidjan, Ivory Coast, Churches and meetings with many former students and pastors, and a Bible School Graduation. Pray for the needed visas ($56 each) & plane tickets $330 each.
April 7-14 – Fly back to Cotonou, Benin, go North to Parakou for Bible School.
April 14-21 – Back to Cotonou, Benin, teach Bible Schools & Easter Celebration.
April 22 – Debby flies back to US
April 23-27 – Fly to Douala, Cameroon – Leader's Seminar. 1st time there! Pray for visas $100 each and plane tickets $400 each for Fred & Augustin.
April 29-May 4 – Drive to Lagos Nigeria, Fly to Port Harcourt, Nigeria & back. 1st time there! Fred needs visa & plane tickets for Fred & Augustin.
May 5 – Fly & drive back to Cotonou, Benin
May 6 – Fred flies back to US.
We try to keep things updated on Facebook – so be sure to check us out there!