Dear Friends,
We had a wonderful and fruitful missions trip to Africa.
Thank you so much for sending us and being a part by
praying and giving. We are glad to send you this report of
our trip.
Africa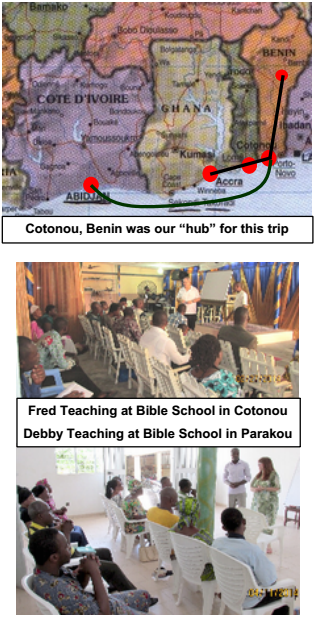 We flew to Cotonou, Benin and used that as a base on this trip – going out from and coming back to it. We traveled by road and plane. That was different than the way we have done ministry in Africa over the last few years. In the past years, we have started at one country, like Mali, and work our way through other countries until we reached the last one for the trip – often times Benin or Ghana.
But this trip was a different trip in many ways. Some of our schedule cannot be organized until we actually get to Africa, so we have to be flexible and trust God to lead us.  We both taught at Bible Schools and conferences as well as spoke at many church services. We were gladly received
wherever we went.
Benin
We arrived in Cotonou, Benin, via Paris, France, Sunday night, a day late because of bad weather. As always in our life and ministry, all plans are subject to change.
The first week, Fred taught at the Bible School of Pastor
Augustin & Paul on the subject of Church Planting.
After we came back from Ghana, we traveled to Abomey
where Debby spoke at a ladies Conference. We spoke in
Bohicon (a city next to it) for a weekend of special services
with some Churches in the city and in nearby villages.
After Abomey & Bohicon, we traveled back to Cotonou
for a week of Bible School – Fred taught at one and Debby
taught at another.
Benin – continued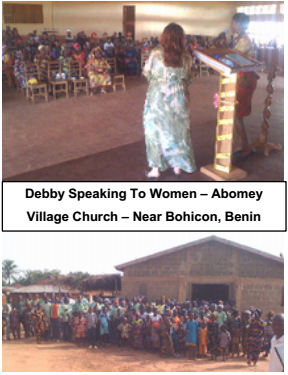 After we returned from Ivory Coast, we traveled North to Parakou. Debby taught on Covenant at the Bible School.  Then we returned one last time to Cotonou, and taught The Life of David at the Bible School. Afterward we celebrated Easter in Benin.
Togo
In the city of Lome, Fred taught on church planting. This was live teaching at a Video Bible School. We also gave 3 Video Bible Schools with projectors to 3 pastors.
Ghana

Accra – It was so good to see our friends and former students that are now pastors. It is a privilege to check up on them and encourage them to continue on faithfully.  After Ghana we then traveled back to Cotonou, Benin.
Ivory Coast
We spent 2 weeks in Abidjan, our old home. We got the needed visas and plane tickets – thanks for praying for that.  This was the first time we had ministered there in 10 years.
Many came to the airport to welcome us. They organized a special meeting of former students and we were all so glad to see each other.
In John 15:16 Jesus spoke of, "fruit that remains." and it was deeply touching to see our students and the fruit of the years of Bible School we spent in Abidjan.
Fred taught at 2 Bible Schools.  He taught for 2 weeks at the Bible School of Pastor Bernard on the New Testament.  This is the same place we had Bible School for years and Pastor Bernard has continued it. It was such a blessing.
Fred also taught a Bible School class on Sunday evening at the principal church were we started back in February 1998. It was wonderful to see how it is continuing and
training pastors to go out and plant churches.
We spoke at a graduation of a Video Bible School run by 2 of our graduates.  This was their third graduation.
They have continued Bible School and we were blessed to see
what they have done and be a part of the graduation.
We got to visit many churches and see a number of our
former students. We also got to speak at a couple of new
church plants in the city and out.
Fred plans to be back in October and we are making big
plans for 2015 to speak at the Bible Schools again, visit
more of our former students and their churches and have
Leaders Seminars across the Ivory Coast.
Nigeria & Cameroon
Neither of the programs for Cameroon nor Nigeria came
together for this trip. We will try again in 2015 for them
and possibly Congo as well. Thanks for Praying!
Prayer Requests
Please Pray for us and our travels for the rest of 2014.
We have tentative plans for Europe in September. Fred is
planning to be in Africa in October and Debby is planning
to be in the Philippines in November & December.
Please Pray for the Video Bible Schools and help in the
production of the new classes and the translation / language
work for the classes. It is a huge job!
Please Pray for our daughter, Marie-Louise. She has
finished her first year in College and looking for a summer
job before returning this fall.
Pray for health and strength for us.
Please Pray for our needed monthly financial support.