Dear Friends,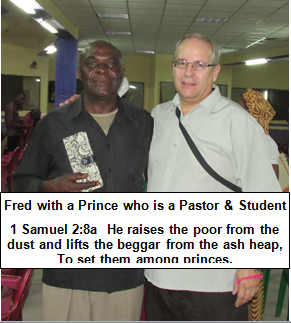 Thank you so much for all of your prayers, especially for Fred while he was in Africa. As we often write, all plans are subject to change. Fred's time in Africa in September and October did not go according to his plans. In fact it was one of the most difficult trips ever. But at the same time it was full of wonderful, blessed ministry.
We have so many ministry opening amongst the nations, like Paul says in, 1 Corinthians 16:9 "For a great and effective door has opened to me, and there are many adversaries." But we also find opposition too. We need you standing with us in your prayers and financial partnership!
Prayers
Debby is headed to the Philippines November 4th along with a team. Please be praying for them while they are traveling and ministering there.
Fred heads back to Africa in January. Your prayers for that trip are needed and appreciated.
FRED'S FALL AFRICA REPORT


This trip was different from any other trip I have ever had in the last 18 years of going to West Africa. A friend, Roy Jackson, traveled with me. As always, I had arranged all our dates and places – but then the plans went out the window. First I had to delay the trip one week. Next, about 3 days before flying to Ivory Coast, we were informed that there would be riots that could last for months. We quickly changed our plane tickets to fly into Cotonou, Benin.
In Benin, I taught at 3 different Bible Schools. While in Benin, Burkina Faso had a coup. I needed to go to Burkina Faso to meet with the church leaders about our upcoming seminars there in 2016.
With things being peaceful in Ivory Coast, we flew there next. We had Leader's Seminars in Sikensi, Daloa, and Bonoua, passing out the Shepherd's Staff book to the pastors. But it was also a struggle – in the week we were in Ivory Coast they cut off my cell phone 2 times and it was a hassle getting it unblocked. Also we were broke down on the side of the road in the heat of the day 3 times. (In 17+ years of travels all across West Africa in older cars, we have rarely been broken down.) In spite of everything, it was a fruitful time of ministry in Ivory Coast.
Things in Burkina Faso continued to be questionable and so finally we gave up our plans to go there along with some other planned meetings in Mali. We flew straight to Bamako, Mali, from Ivory Coast. There I taught the book of James at the Bible School of Pastor Marc. Everything went as planned in Mali and the school was full of hungry students – both pastors and soon to be pastors.
Finances – Besides our plans being so up in the air during this trip, our finances took a terrible drop. We haven't had a month so low in more than a decade. It was terrible to be in Africa with so many things to do and have my hands so tied. Please pray for a financial miracle for us in the remaining weeks of 2015 so that we can end 2015 in the black. Also please pray with us for more monthly partners.
Please Pray
Please pray for Debby along with her team while they are traveling and ministering in the Philippines.
November 4-6 – Fly to Manila, Philippines
November 6-15 – Travel to Baguio & nearby villages of Cordon, Isabella, Botigue, Palitud, Ifugao & back.
November 16-19 travel back to Manila & on to Palawan.
November 19-29 Traveling medical ministry & Preaching across Palawan.
November 30- December 3 – travel back to Manila & USA
Thank You So Much for your Love, Prayers and Financial Support! May God Bless you abundantly!